What is the Difference Between OEM and Aftermarket Parts?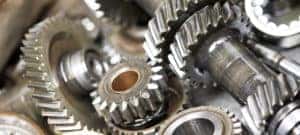 Bring your Honda vehicle into a Downey Honda service center to fulfill your maintenance schedule or for a repair, and your vehicle will be fitted with genuine Honda OEM parts by an experienced mechanic. Visit a chain or independent shop instead, and aftermarket parts will be used to service your vehicle. Does this leave you questioning, "What is the difference between OEM and aftermarket parts?" Read on to learn more about how these parts differ with Honda World Downey.
Difference Between OEM and Aftermarket Parts
OEM stands for Original Equipment Manufacturer, which means the parts are made by the same company that makes the vehicle. Meanwhile, aftermarket parts are produced by a different parts company and are often designed to be compatible with as many makes and/or models as possible. Due to these design differences, aftermarket parts won't always provide the same superior fit of OEM parts.
OEM vs. Aftermarket Parts
Aftermarket parts may cost less initially, but the cons of using aftermarket parts far outway any initial savings. With genuine OEM parts, Norwalk drivers are getting:
Quality: One of the reasons aftermarket parts can be cheaper is they aren't always made of the same high-quality materials as OEM parts. These inferior materials can lead aftermarket parts to fail and negate any initial savings that a driver may have experienced.
Performance: Honda OEM parts have been designed specifically for your make and model. This allows them to deliver the optimal fit and performance so that your vehicle runs at its best.
Selection: With so many aftermarket parts flooding the market, there can be a huge and often confusing selection available if you are trying to shop by yourself. A visit to a Honda parts department will ensure that you are getting exactly what you need for your Ford repair or maintenance needs.
Parts Warranty: Any genuine Honda part is covered by a 1-year warranty.
Vehicle Warranty: If you are driving a new Honda that is still under warranty, the use of aftermarket parts on your vehicle may void your warranty coverage.
Find Your Genuine Honda Parts at Honda World Downey
You can rely on Honda World Downey to use genuine OEM parts in our services and repairs. Leave the work to our certified mechanics or feel free to order parts online for your DIY home repairs!