2022 Civic: Coming Soon
A sign of thrills to come, the prototype paves the way for the all-new 2022 Civic Sedan, arriving next spring with an even sportier chassis and more powerful engine options.
The car accentuates sporty design with aggressive lines and black accessories. It shows the exciting power of design and performance to come from Honda as we move forward.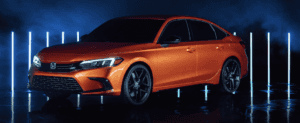 More info: